Daily Update
5 January 2021
Dear Parents / Carers,
New National Lockdown Announced
As you will be fully aware, yesterday evening the Prime Minister announced that we will enter a new COVID19 lockdown period, which came into force at midnight. The Government has issued full Stay at Home guidance, which can be found here.
The PM's announcement followed a joint statement from the UK Chief Medical Officers recommended that the UK COVID-19 alert level move from level 4 to level 5:
"Many parts of the health systems in the 4 nations are already under immense pressure. There are currently very high rates of community transmission, with substantial numbers of COVID patients in hospitals and in intensive care.
"Cases are rising almost everywhere, in much of the country driven by the new more transmissible variant. We are not confident that the NHS can handle a further sustained rise in cases and without further action there is a material risk of the NHS in several areas being overwhelmed over the next 21 days.
"Although the NHS is under immense pressure, significant changes have been made so people can still receive lifesaving treatment. It is absolutely critical that people still come forward for emergency care. If you require non-urgent medical attention, please contact your GP or call NHS 111."
The immediate impact of this lockdown announcement on The Deanes is as follows:
Primary, Secondary Schools and Colleges
All primary (reception onwards), secondary schools and colleges are to move to remote learning only for the majority of children until February half term.
The children of critical workers and vulnerable children may continue to attend onsite.  This is only for those children whose parents are critical to the Covid-19 response and cannot be safely cared for at home or children who are vulnerable and cannot be safely cared for at home. The fewer children making the journey to school, and the fewer children in educational settings, the lower the risk that the virus can spread and infect vulnerable individuals in wider society. 
If you need to use this provision, please complete this form as a matter of urgency.
Examinations
The PM also announced that this year's summer exam series are likely to be cancelled and that the Education Secretary will implement an alternative. We do not yet know the details of what this arrangement will be but there will be a consultation period before any decision is made.  
Until we know what the new arrangements are, we must assume that there will be some form of assessment and that students must continue with their courses.  I have written to Year 11 students and the parents earlier today.  The letter can be viewed here.
Free School Meals
Schools are again expected to provide free school meals for those eligible children.   This morning, we issued Wonde vouchers to all eligible families.
Access to technology
Thank you to everyone who completed the form requesting the loan of a laptop.  We have been able to allocate a device to the majority of those who need one.  We will be working to ensure everyone has a device over the next two days.
Transport to School
During this lockdown, our minibus will continue to collect and drop off the students who access the Southend service.  I would advice parents from Basildon to contact APT Coaches regarding their offer.  We believe it will resume on Monday 11 January 2021.
Testing in Secondary Schools
We will not be setting up a testing centre as previously planned, until we have further details on this.
Feedback from today's Distance Learning
From your emails and messages today, EPraise seems to be stable and easily accessed by virtually all students.  A very high percentage of students registered online before 09:30 using the correct form.  
Some parents have asked for clarification about which class their child is in for live lessons.  This information can be found on EPraise by accessing your child's timetable.  This is shown in the screenshot below.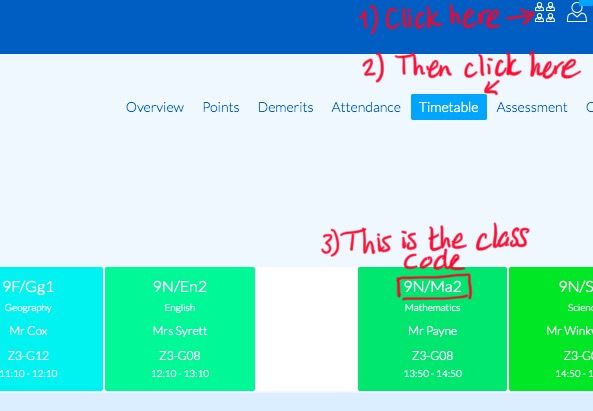 Please note that not all subjects and Year Groups will have the same approach: this will vary according to the content, context and skills being developed. Students can look forward to a blend of independent learning activities, some elements of live-streamed coaching/direction, recorded videos and the use of on-line teaching tools.  All of this detail was first sent out in July 2020 and on several occasions since.  It is attached again for your reference.  
Can I please remind you that our staff are working from home and many have young children too.  They, too, are juggling the demands of lockdown, working from home and helping their own children with remote learning.  Whilst some schools may offer more live lessons, others have opted not to provide any; we believe we have achieved a balance that also accommodates students with limited access to IT, working parents unable to supervise their children, as required for attendance at Live lessons, and staffing demands.  As ever, teaching staff are available for contact during the school day should students or parents require support with Distance Learning and provide feedback on work submitted via Epraise. It is also worth noting that several members of staff are ill with Covid-19 at present. Colleagues are assisting with the setting of online work so that students are not impacted. 
Communication
Over this period, I intend to communicate with you daily by email.  We will also place these messages on our website, under 'News'.  Please ensure we have your correct email address and mobile number.  If you have changed your email or mobile recently, please complete this form so we can update our records.
Contact Us
Our new Contact Form is on our website under the 'Contact Us' menu item, or it can be accessed by clicking here.  This is the best way to communicate directly with us. 
Take care
Desi
Desi McKeown
Headteacher