Daily Update
5 March 2021
Dear Parents / Carers
I hope you are well.  We are very excited that we will be welcoming our students back to school from Monday.  Full details on returning can be found here.
As a reminder, the staggered return to school will be as follows: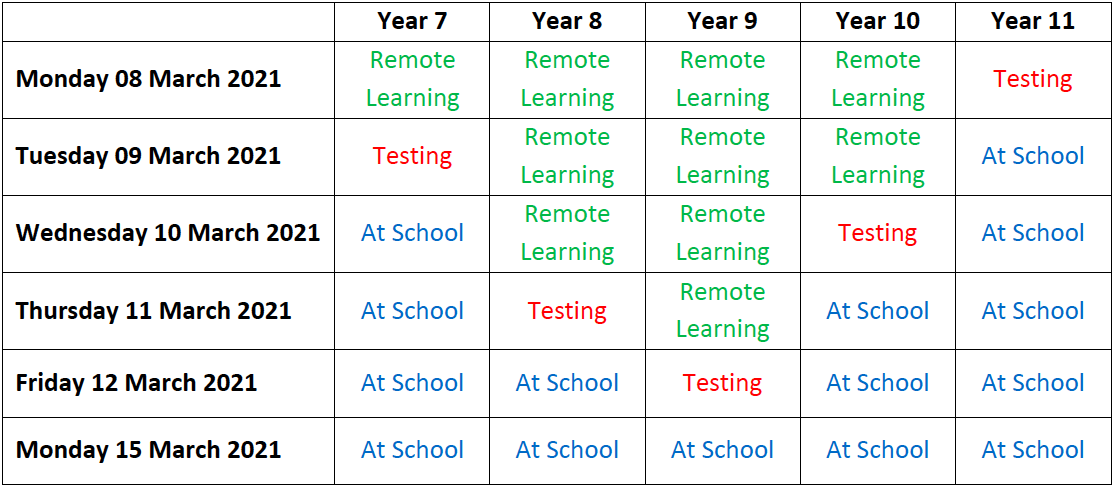 Testing
I would like to clarify that students must leave the school site once they are tested.  Students will be emailed the result but we will telephone parents of children who test positive.
Face Coverings
When we start back, we will be expecting all students to wear a face covering in all indoor areas, including classrooms.  If your child is exempt from wearing a mask, you must complete this form detailing the reason so that we are aware.  Students who are exempt will be provided with a lanyard when they start back.
Vulnerable Students / Students with Critical Worker Parents Next Week
Thank you to those who have booked this provision for next week by completing the form as requested.  We have created our staff rota accordingly.
Please ensure your child has a packed lunch and something for break. It is also important for your child to bring their own equipment, including earphones, as they may need them for their lessons.
DO NOT SEND YOUR CHILD INTO THIS PROVISION, UNLESS YOU HAVE BOOKED IN ADVANCE.
Laptops
If you child has borrowed a laptop from the school for use during lockdown, they must return it when they come in for testing next week.  If they are not coming in to have a LTD test, they must bring in the laptop on their first day back.
These laptops are needed for use in school so it is essential that all the laptops are returned.
Year 7 Parents Evening
Thank you to everyone involved in last night's parents' evening for Year 7.  As this is the first time we have held a virtual parents' evening, we are keen to seek your views.  I would appreciate year 7 parents competing this short survey - https://www.smartsurvey.co.uk/s/ParentsEveningYr7/.
Uniform Shop
Dolly's Schoolwear have advised us that they are open for Click and Collect this, Friday 05 March, Saturday 06 March and Sunday 07 March from 10:00 to 14:00 if anyone needs uniform for the return to school.  Dolly's contact number is 07969 384384.
Weekly Reports on Student Engagement
We aim to send all parents this week's report on their child's engagement with the remote learning work on Sunday.  The report will inform you if your child has missed any work. 
...And Finally
As we are returning to school from Monday, this will be my last daily update.  I will return to sending the weekly newsletter.  Obviously, if there is information that I think you need, I will pass it on.  Thank you for all your support during this period of Remote Learning.
Have a lovely weekend 
Desi
Desi McKeown
Headteacher